Gabriel Pereda (Class of 1999)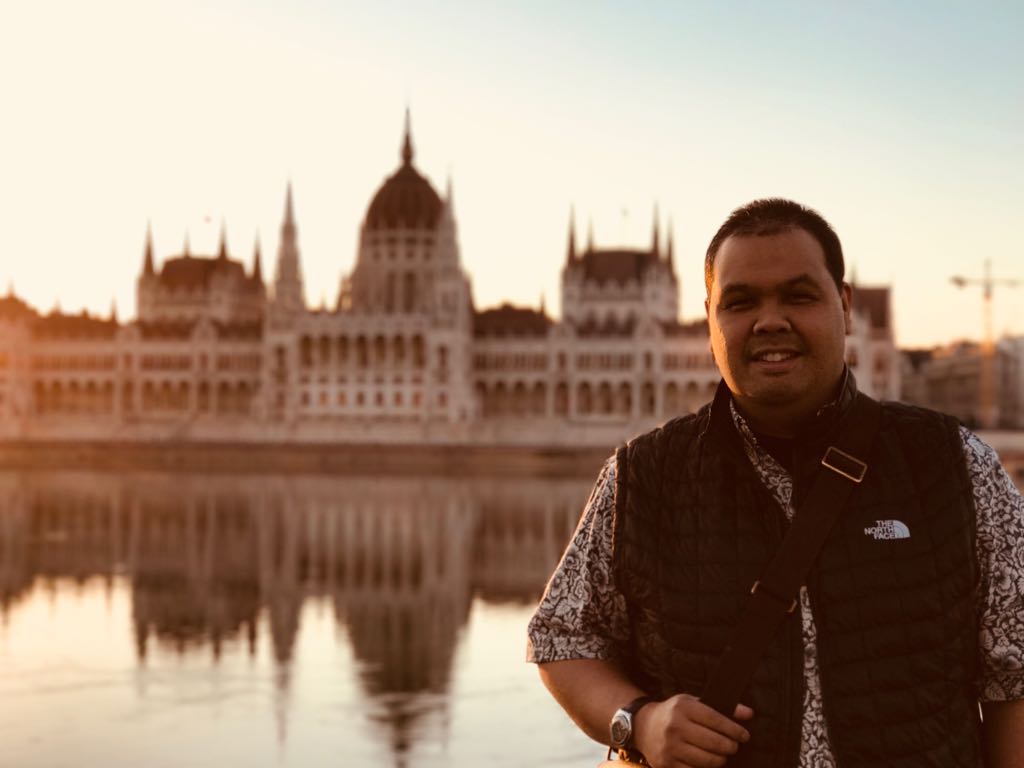 1. YOU ARE THE CLASS OF? (YEAR)
2. DESCRIBE YOURSELF IN HIGH SCHOOL?
Focused. Determined. Positive. Sincere.
3. SOME OF MY FAVORITE PEOPLE IN HIGH SCHOOL WERE?
For the two years I was at St. Paul, I was involved with compiling the school's yearbook. Since this included capturing all of the school's events from kindergarten to 12th grade, I was able to be around and be exposed to all of the students, teachers, administration and support staff. We all knew each other and even better, we were all there for each other to celebrate in the good times, and pray during the tough and challenging times. It was always nice in chapel and bible classes to see the students asking for prayer, or praying for others, acknowledging their belief and trust in the One true God, even when their background indicated zero exposure to the Christian Faith.
4. FAVORITE THING TO DO IN HIGH SCHOOL?
Lol, operating the sound board during the chapel services with Mark Cepeda. Who knew I could learn a thing or two about acoustics and apply it!?
5. IN HIGH SCHOOL I WAS MOST PROUD OF?
Graduating top 10. Math was not my strong point in school, and I was not sure how well I would do in my advanced placement algebra class, but with excellent teachers like Dr. Geri James and a lot of extra credit, I surprisingly did well. This ultimately allowed me to retain my ranking at graduation and graduate in that bracket.
6. AFTER GRADUATION WHAT DID YOU DO?
To keep the cost of college tuition low for my parents, I attended Guam Community College and the University of Guam for one year. The following school year, I moved to Hawaii to complete my undergraduate studies at Hawaii Pacific University where I graduated with honors and obtained my B.S.B.A in Finance. The Lord blessed me with an opportunity to work at the ExxonMobil Corporation on Guam where the company paid for a good portion of my graduate studies and I was able to earn my M.B.A (also with honors) as a result.
7. WHAT ARE YOU DOING NOW?
The Lord opened up an opportunity for me to move to the Federal Judiciary 11 years ago and I'm now involved in finance and budget at the District Court of Guam and the U.S. Probation Office; this court also has jurisdiction for all bankruptcy proceedings on island. I maintain oversight of all finance, budget, and internal controls activities in the U.S. Probation Office, while also providing managerial and analytical support for these activities in the district and bankruptcy offices. Prior to this, I began my career in business administration at the ExxonMobil Corporation and was there for six years working in various areas of strategic planning, supply chain management, internal controls, business process improvement, financial analysis, sales, and procurement.
8. MY PROUDEST ACCOMPLISHMENT AFTER GRADUATING?
The Lord orders our steps and I decided that I was either going to be a pilot after graduation, or go into a career along the lines of business administration (human resources, finance, budget, policy, procurement). By the grace of God, I have been blessed with the opportunity to learn from some of the greatest minds in all of these fields including founder Bishop Jon Pineda who mentored me in accounting and banking; Minister Abi Adigun, Kamal Singh, Leo Manlapaz, Frances Diaz, and our very own Malu Dorego with ExxonMobil who mentored me in all aspects of business administration in a for-profit business environment; Chief Judge Frances Tydingco-Gatewood and Court Unit Executive Jeanne Quinata who mentored me in navigating legal policy and procedure as it relates to business administration. Having learned from the best, I have applied this business acumen through the course of my career, including growing our family wholesale business over a ten year period and using that money to fund me and my sister's graduate school studies, travel the world over several times already (it never gets boring), and be a blessing to others. We have over time sold portions of that business and reinvested the proceeds towards other personal financial and entrepreneurial aspirations.
9. ANYTHING ELSE YOU WANT TO SHARE?
Your life really begins after you graduate, and St. Paul will provide you with the anchor you will need in order to successfully navigate the good, the bad, and the ugly. That anchor is our Lord and Savior, Jesus Christ – our one and only Hope. Post-graduation you will come to realize the harsh realities of this cruel and imperfect world, but through it all, you will also realize that with Christ as your anchor, God is able to help you, sustain you, and make you overcome through and by his faithfulness to you. That said, my prayer according to Romans 15:13 in the Amplified Bible is that , "…the God of hope fill you with all joy and peace in believing [through the experience of your faith] that by the power of the Holy Spirit you will abound in hope and overflow with confidence in His promises."